Drive-In Movie Theaters Are Thriving
Drive-In Movie Screen, Projector and FM Audio Packages
Going out to the movies is still possible! In a retro feel-good way, consumers are flocking to drive-in theaters for an evening out and a fun new experience to share.
Like a blast from the past, revenue is surging at existing drive-in movie theaters. New drive-in locations are also popping up, creating jobs and open spaces where people can go to feel a little more normal.
Organizations, traditional indoor movie theaters, entertainment companies and entrepreneurs have purchased drive-in movie equipment from Outdoor Movies during the past several weeks. It is deeply satisfying to know every drive-in screen and projector we deliver will lift the spirits of thousands impacted by the Covid-19 health crisis.
A drive-in theater renaissance is unfolding in the parking lot of churches, military bases, office buildings and shopping centers. These are perfect places to set up an Outdoor Movies Drive-In Package. Every portable package includes:
With leasing options offering an attractive way to not write a big check up front, compare these AIRSCREEN Drive-In Packages for the location(s) you have in mind:
AIRSCREEN 24' Drive-In Package
AIRSCREEN 30' Drive-In Package
AIRSCREEN 40' Drive-In Package
AIRSCREEN 52' Drive-In Package
Big-screen laser projection is an awesome experience and a key attraction of indoor movieplex theaters. Today, an evening of good clean fun away from home is as close as a drive-in cinema drawing crowds with a big bright AIRSCREEN Drive In Package.
AIRSCREEN Drive-In Movie Screen
Inflates in 10 minutes. Will not bend or flex even in 22 mph wind.
Complete Drive-In Packages
AIRSCREEN theatrical projection surfaces from 24' to 80'
Portable and Durable
Lowest cost of ownership. Thousands of set up and take down cycles.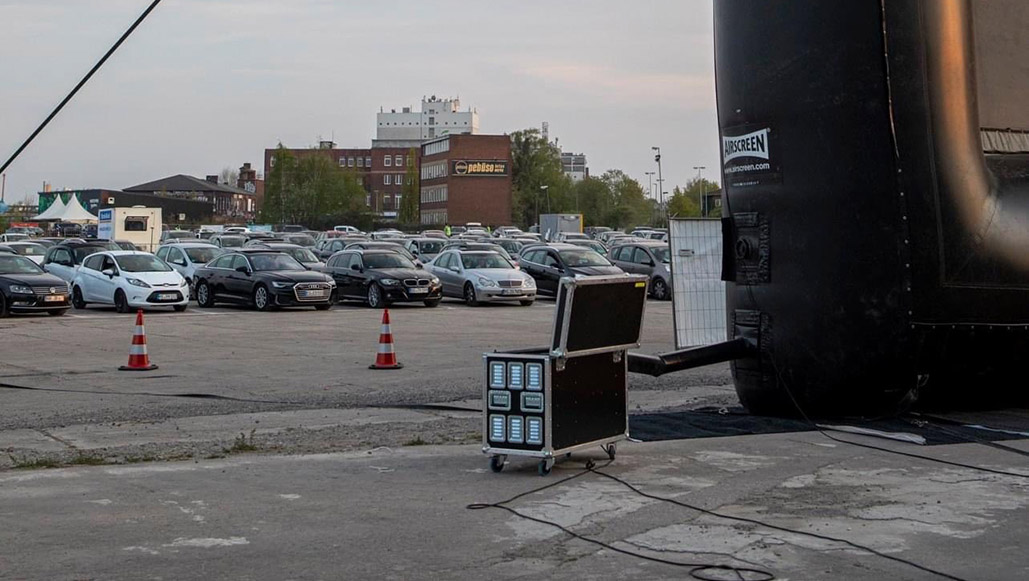 AIRSCREEN Blower Silencing Case
Overbuilt components handle higher-pressure inflation.
Complete Drive-In Packages
AIRSCREEN theatrical projection surfaces from 24' to 80'